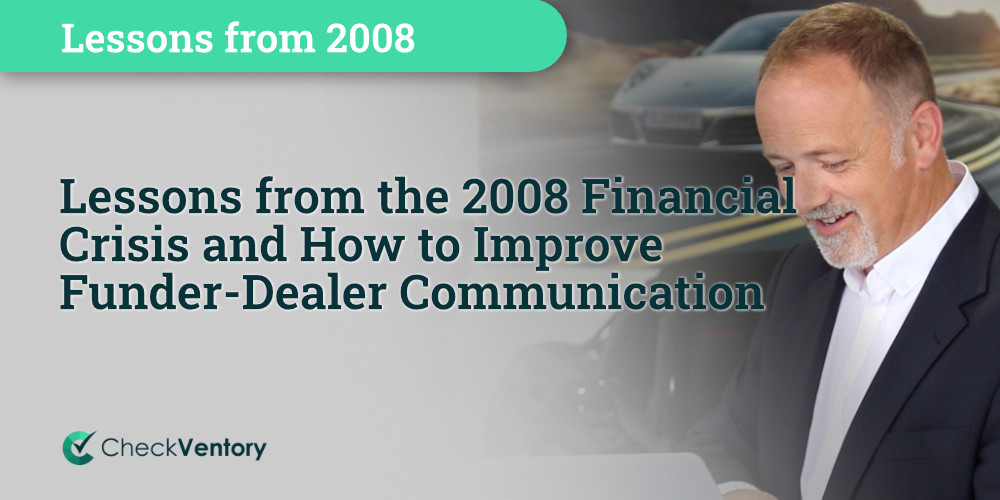 The Power of Hindsight: Lessons from the 2008 Financial Crisis and How to Improve Funder-Dealer Communication
For those in the automotive funding industry, the lessons from the 2008 financial crisis serve as a reminder of the importance of being prepared for any eventualities in the economy. The recession highlighted the need for better communication and collaboration between funders and dealers in order to navigate an uncertain financial landscape.
In this article, Adrian Walsh, the former CEO of the Fiat Group Ireland during the recession, shares his personal experience of the disconnect between funders and dealers and how it inspired the creation of CheckVentory.
---
"In 2008, I was the newly installed CEO of the Fiat Group Ireland, a wholly owned subsidiary of FIAT in Turin, representing Fiat (passenger and commercial) and Alfa Romeo. We had a relatively small network of individual dealers, and very few were affiliated with larger groups. Moreover, it would be fair to say that Fiat's overall market share had significantly declined over the preceding decade, so many dealers had very limited reserves to head off any downturn.
"As the head of both the national sales company and the credit committee responsible for floorplan finance, I had a unique perspective to see the disconnect between the decisions made by the credit committee and the requirements of dealerships on the ground. Like most funders, we primarily relied on manual inventory audits to calibrate compliance with the credit rules. Unfortunately, even though the inventory volumes were relatively low, and the dealer network was relatively small, audits were painfully slow, expensive, and inefficient.
"Unlike many other importers, we were aggressively growing our dealer network through the 2008-2012 period. While, as the distributor, we had substantial leverage and guarantees with many of our dealers, operationally, we still had significant restrictions handed down from HQ on how we managed credit. I could see first-hand how we artificially restricted dealers' trading capacities due to limited information and controls.
"I realized that dealers need inventory to promote their wares, and the more inventory they display, the better the customer experience and sales performance. A well-stocked forecourt is attractive and builds consumer confidence. When establishing a brand in a newly appointed dealership, a strong display is crucial for building awareness and confidence in the market. It is also vital when the brand has limited models, but numerous variants; displaying a comprehensive range is essential.
"As a distributor, the dealer is your partner. While used vehicles are generally not the primary concern of a new car distributor, they are necessary to a dealer's economics. Therefore, they should be high on the radar of all distributors (and funders). Each used car on a forecourt represents a potential customer, profit, and service opportunity.
"I knew we needed to find a solution to improve communication and collaboration between funders and dealers. This realization led me to create CheckVentory, a digital auditing platform that allows for the quick and easy data collection on a portfolio, giving funders a clear picture of their lending portfolio and helping them identify and manage potential risks. With CheckVentory, funders can quickly identify and address potential issues, reducing the risk of loss from default or other problems.
"In addition, CheckVentory's self-audit feature streamlines the process for borrowers and saves time and resources for both the funder and the dealer. The platform not only helps with risk management but also helps optimize revenue by providing the means to identify potential opportunities and make better-informed decisions.
"In conclusion, the 2008 financial crisis served as a reminder of the importance of being prepared for any eventualities in the economy. My personal experience during the recession highlighted the need for better communication and collaboration between funders and dealers. CheckVentory was created to address this need and improve the relationship between funders and dealers, ultimately benefiting both parties and leading to a stronger and more sustainable industry."
---
If you're in the automotive funding industry and want to learn more about how CheckVentory can help your business, we would be happy to give you a demo.
Contact us today to schedule your demo and see for yourself how CheckVentory can improve communication and collaboration in your business.